POSTER ARCHIVE (in progress!)
Welcome to the OPIRG York Poster Archive!
This is a collection of posters from the OPIRG York office. Many of them are from events and campaigns that OPIRG York staff and volunteers participated in —from as early as 1992! Some of the posters are from events that our neighbour and ally organizations organized, and that OPIRG endorsed or supported.
The poster on the right was likely OPIRG York's first from 1992! The "Vote Yes!" campaign was successful in the spring of 1993, and OPIRG York was born with the support of the organizations listed.
Why this archive?
We present these posters here as an expression of the meaningful work that OPIRG York has organized and supported since our founding in 1993.
It is humbling and inspiring to look back at past struggles and desires—to see our work as multi-generational. It can be hard sometimes to not just jump from one project to the next; there is incredible urgency to so many social and environmental justice struggles.
Let us pause here. Let us reflect on the successes and losses, and feel the presence of our movement predeccesors.
Credits for the archive
Thank you to Ryan Hayes for creating the OPIRG Poster Archive in 2012. These posters were sitting in neglected binders in the OPIRG Toronto and OPIRG York offices until Ryan had the inspiration to make them digitally available! Big gratitudes to the past OPIRG York staff for carefully preserving these posters in folios. Thank you also to Daniel Vandervoort for scanning many of these beauties.
More on Ryan's process and purpose for this project is available here.
On the anniversary of the War on Iraq: Resist Occupation! Confront Canadian Complicty!
2005
Students Against War and Racism (SAWR)
march and rally
Troops Out of Iraque: Let the War Resisters Stay
2005
Toronto Coalition to Stop the War
march and rally
TAKE DOWN SNC, 2005
BECOME THE RESISTANCE INSIDE FORTRESS NORTH AMERICA
campaign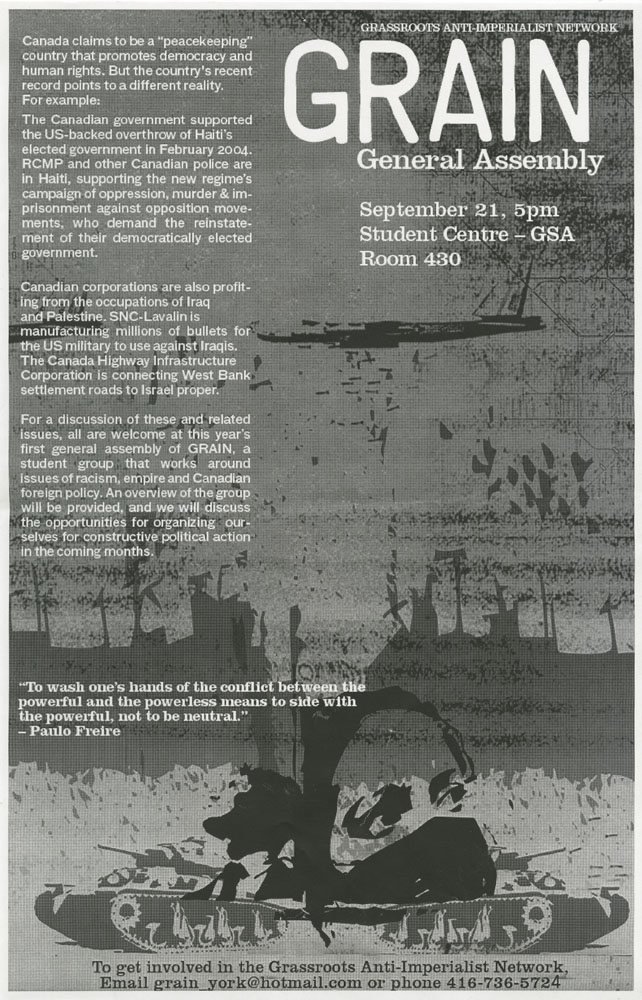 GRAIN
2005, Sept 21
Grassroots Anti-Imperialist Network
General Assembly
War Free School
2008, Nov 7
Educators  for Peace and Justice and coalition
public forum
STOP THE WAR: Bring the Troops home from Afghanistan
2009, April 4
Toronto Coalition to Stop the War
rally and march
OPIRG York Newsletter Outreach
1998, March
OPIRG York
newsletter outreach
OPIRG York Open House
OPIRG York
new office celebration
Spirit of Truth,
1995
Free Leonard Peltier Defense Committee
benefit concert
Women and the Earth Fair, 1995
Sponsored by OPIRG and the Ecofeminism Working Group
speakers, workshops, goddess making, cabaret